Win prizes during National Walking Month
If you want to keep active and do your bit for climate change, you can take part in National Walking Month, a campaign to encourage people to ditch the car and start walking more this May. 
The My Journey Team at Wokingham Borough Council is running a series of challenges throughout May where you can win daily prizes and medals by tracking your steps on a free, easy-to-use smartphone app.
BetterPoints, previously known as Innovation Valley Rewards, tracks your activities automatically and rewards you for making greener and healthier travel choices including cycling or taking public transport.
To find out more, visit the My Journey website or download the free Betterpoints app.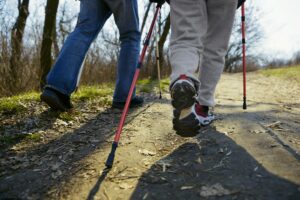 Cycle around the borough and win prizes this May
Cyclists of all ages and backgrounds can celebrate the start of sunnier weather by taking part in this year's Love to Ride Bike Month Challenge.
The event runs throughout May and encourages both individuals and workplaces to saddle up, have fun and hopefully win prizes.
Registration is free and all rides, which can easily be logged online or recorded automatically through an app, only needs to be 10 minutes or longer to count.
The more you ride, the more entries you'll get into a draw with prizes including £2,000 and smaller cash amounts, gift cards and cycling gear as well as "early bird" rewards.
To take part, register on the Love to Ride website.
Source: Wokingham Borough Connect, Monday 8th May 2023