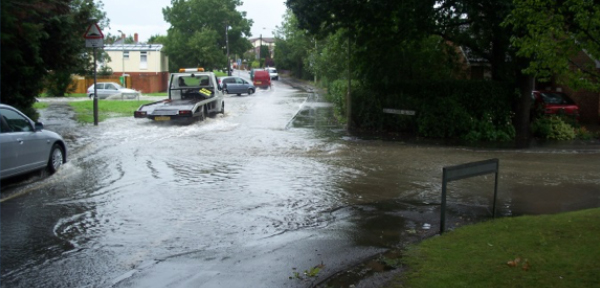 Wokingham Borough Council is the Lead Local Flood Authority for the borough with a range of specific responsibilities including the management of flood risk from surface water runoff and groundwater. More details about flooding in Wokingham and Wokingham's Local Flood Risk Management Strategy can be found on their website.
A Scheme has also been introduced for a Community Warden Scheme.  Please click here for full details and more information.
Role of residents and businesses
Many flood defence assets are owned by third parties and in these cases responsibility rest with the owner. Those owning land adjoining a watercourse are known as Riparian Owners and they have certain rights and responsibilities. For details of these see Living on the Edge produced by the Environment Agency. Residents whose homes or businesses are located in areas that are at risk of flooding should consider making their own flood defence preparations. The National Flood Forum's Blue Pages Directory is a useful independent director of flood protection products from specialist manufacturers
Do you have a watercourse, such as a ditch, stream or river running through or alongside your property? If so you are probably responsible for its maintenance unless it is known that it belongs to someone else. In legal terms you are a 'Riparian Owner'. If the land on the other side of the watercourse is not in your ownership you are presumed to be the joint riparian owner with the landowner on the other side. In that case each party is presumed to own up to the centre line of the watercourse. Sometimes these details are included on the deeds of your property and you should check this.
Your rights

Your responsibilities

To receive a flow of water in its natural state, without undue interference in quantity or quality

To pass on flow without obstruction, pollution or diversion affecting the rights of others

To protect your property against flooding and to prevent erosion of the banks or any nearby structures

To maintain the banks and bed of the watercourse (including any trees and shrubs growing on the banks) and any flood defences that exist on it

You usually have the right to fish in your watercourse. However, you must use legal methods

To maintain any approved structures on your stretch of the watercourse. These may include culverts, weirs and mill gates

Without a licence, you can extract a maximum of 20 cubic metres of water a day for the domestic purposes of your own household or for agricultural use (excluding spray irrigation).

Most other types of extraction require a licence from the Environment Agency

You must not build a new structure (for example a boardwalk) that encroaches upon the watercourse or alters the flow of water without first obtaining permission from Wokingham Borough Council

Riparian owners also have responsibilities to maintain their banks and watercourse in such a way as to not pollute the water or harm the wildlife in any way.
Implementation of legislation
As the Lead Local Flood Authority, Wokingham Borough Council is encouraging riparian owners to work towards an effective watercourse system through a process of cooperation, liaison advice and assistance whenever possible. However, under the Land Drainage Act 1991 all Councils have the powers to serve notice on riparian owners for the removal of any blockage to an ordinary watercourse. Should the owner fail to do so, the Council has powers to undertake the work themselves and recharge the costs to the owner. Wokingham Borough Council will try to resolve problems through discussion in the first instance and enforcement of legislation will only be used as a last resort.
Reservoirs Act
Earley is home to Maiden Erlegh Lake which has been classified as a reservoir under the Reservoir Act 1975. The lake lies within a nature reserve and is managed by the Town Council. Earley Town Council have a maintenance plan in place to ensure that the lake and its various water level controls are inspected and kept in a good condition on a regular basis.
Other information
Start preparing today before a flood happens:
◦Check your insurance cover
◦Know how to turn off your gas, electricity and water mains supplies
◦Prepare a flood kit of essential items: water, blanket, torch etc
◦Know who to contact and how
◦Think about what you can move out now
◦Think about what you would want to move to safety during a flood
Find out whether there are any flood warnings in your area by visiting the Environment Agency website.
Call the Floodline on 0345 988 1188