Earley Town Council Mayor
The Town Mayor is elected annually in May by the Town Council. The Mayor serves as the Chair of the Town Council and presides over meetings of the council. The Mayor also acts a figurehead for the Council in the community, attending engagements, officiating at events, presenting prizes or certificates and acting in an apolitical way on behalf of the Council.
If you would like to invite the Town Mayor to your event then please contact:
Richard Fryer, Democratic Services Officer, on 0118 9986 8995 or administration@earley-tc.gov.uk.
Alternatively, you can post your request to: Democratic Services Officer, Earley Town Council, Radstock Lane, Earley, RG6 5UL.
When thinking about what information you need to include with your invitation, be sure to enclose the essential details: the nature of the event; what the event is; the date and time; the venue address; the Mayor's involvement. 
Details of recent events the Mayor has attended can be found in the Recent Events section
________________________________________________________________________________________
ETC Mayor & Deputy Mayor 2021/22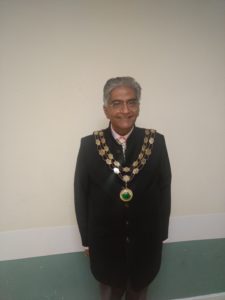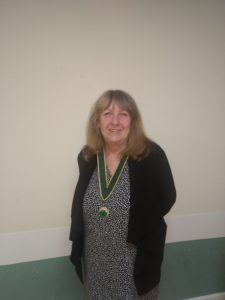 Councillor Tahir Maher was elected          Councillor Caroline Smith was elected 
Mayor of Earley at the Annual Town         Deputy Mayor of Earley at the Annual
Council meeting held on 11th May           Town Council meeting held on 11th 
2022.                                                               May 2022.
________________________________________________________________________________________
Recent Events Attended by the Mayor of Earley
________________________________________________________________________________________
Previous Earley Town Council Chairmen & Mayors
| | | | | |
| --- | --- | --- | --- | --- |
| Period of Office | Title | Forename | Surname | Position |
| 1974-1976 | Mr | R.E | Boulton | Chairman |
| 1976-1981 | Mr | A.C | Paddick | Chairman |
| 1981-1983 | Mr | A.W | Spratling | Chairman |
| 1983-1987 | Mr | J | Busby | Chairman |
| 1987-1988 | Mr | A.W | Spratling | Chairman |
| 1988-1989 | Mrs | V.J. | Santon | Chairman |
| 1989-1990 | Mr | D.J | Fruin | Chairman |
| 1990-1991 | Mr | P | Devonald | Chairman |
| 1991-1992 | Mr | A.W | Spratling | Chairman |
| 1992-1994 | Mrs | F.M | Rolls | Chairman |
| 1994-1996 | Mrs | E | Spratling | Chairman |
| 1996-1998 | Mr | M | Richman | Chairman |
| 1998-1999 | Mrs | E | Spratling | Chairman |
| 1999-2001 | Mr | A.D | Long | Chairman |
| 2001-2003 | Mrs | I | Dowdall | Chairman |
| 2003-2004 | Mrs | J | Shockley | Chairman |
| 2004-2006 | Mr | D.D | Chopping | Chairman |
| 2006-2007 | Mr | David | Chopping | Mayor |
| 2007-2008 | Mr | Norman | Jorgensen | Mayor |
| 2008-2009 | Mr | Andrew | Bradley | Mayor |
| 2009-2010 | Mr | John | Armstrong | Mayor |
| 2010-2011 | Mr | Peter | Willis | Mayor |
| 2011-2012 | Mr | Tim | Chambers | Mayor |
| 2012-2013 | Mrs | Pauline | Jorgensen | Mayor |
| 2013-2015 | Mrs | Linda | Chambers | Mayor |
| 2015-2016 | Mrs | Melanie | De Jong | Mayor |
| 2016-2017 | Miss | Jackie  | Rance | Mayor |
| 2017-2018 | Mr | Michael | Firmager | Mayor |
| 2018-2019 | Mr | Brian | Wedge | Mayor |
| 2019-2021 | Mr | David | Hare | Mayor |
| 2021-2022 | Mrs | Anne | Bassett | Mayor |