Earley Town Council Mayor
The Town Mayor is elected annually in May by the Town Council. The Mayor serves as the Chair of the Town Council and presides over meetings of the council. The Mayor also acts a figurehead for the Council in the community, attending engagements, officiating at events, presenting prizes or certificates and acting in an apolitical way on behalf of the Council.
If you would like to invite the Town Mayor to your event then please contact:
Richard Fryer, Democratic Services Officer, on 0118 9986 8995 or [email protected].
Alternatively, you can post your request to: Democratic Services Officer, Earley Town Council, Radstock Lane, Earley, RG6 5UL.
Please note that all invitations are automatically extended to the Deputy Mayor if the Mayor is unable to attend the event.
When thinking about what information you need to include with your invitation, be sure to enclose the essential details: the nature of the event; what the event is; the date and time; the venue address; the Mayor's involvement. 
The Mayor's chosen charity for 2022-23 is Arthritis Matters a local charity that was set up to help and support people with arthritis by providing practical advice and arranging activities and social events to those with arthritis achieve as much as possible. 
Details of recent events the Mayor has attended can be found in the section below.
________________________________________________________________________________________
ETC Mayor & Deputy Mayor 2021/22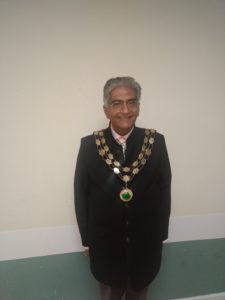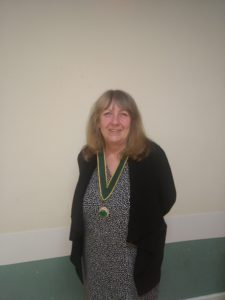 Councillor Tahir Maher was elected          Councillor Caroline Smith was elected 
Mayor of Earley at the Annual Town         Deputy Mayor of Earley at the Annual
Council meeting held on 11th May           Town Council meeting held on 11th 
2022.                                                               May 2022.
________________________________________________________________________________________
Recent Events Attended by the Mayor of Earley
| | |
| --- | --- |
| Date | Event |
| Thursday 27th April | Celebration of Volunteering, University of Reading |
| Thursday 13th April | Dialogue Society Annual Ramadan Dinner |
| Wednesday 5th April | Community Iftar Dinner, Aisha Masjid & Islamic Centre |
| Friday 31st March | Investing Night and Iftar, 1st Lower Earley Scouts |
| Monday 13th March | Yearly Meeting of the University of Reading Court |
| Saturday 11th March | Berkshire Magistrates Mock Schools Trials |
| Friday 3rd March | World Day of Prayer Reading |
| Saturday 28th January | Photography Exhibition and 'Meet the Artist' |
| Saturday 10th December | Mayor's Reception |
| Friday 18th November 2022 | Memories of Earley, Earley Library |
| Wednesday 16th November 2022 | Loddon Viaduct Memorial, Dinton Pastures Country Park |
| Sunday 13th November 2022 | Service of Remembrance, Earley St Peter's |
| Tuesday 8th November 2022 | CResCent Resource Centre AGM |
| Friday 7th October 2022 | Berkshire Judicial Service |
| Thursday 29th September 2022 | SERFCA Awards |
| Wednesday 28th September 2022 | Berkshire Healthcare NHS FT AGM |
| Tuesday 27th September 2022 | Berkshire Vision AGM |
| Saturday 24th September 2022 | Trinity Concert Band Anniversary Concert |
| Friday 23rd September 2022 | Citizen's Advice Wokingham AGM |
| Wednesday 21st September 2022 | Maiden Erlegh School |
| Saturday 3rd September 2022 | Reading Pride 'Love Unites' Festival |
| Saturday 27th August 2022 | Reading Cultural Society Book Launch |
| Wednesday 17th August 2022 | Reading FC Community Trust Summer Holiday Fishing Project |
| Saturday 6th August 2022 | Green Fair |
| Thursday 4th August 2022 | Royal County of Berkshire Army Cadet Force Visitors Day |
| Monday 1st August 2022 | Readibus AGM |
| Tuesday 26th July 2022 | 1996 (Earley) Squadron Air Cadets |
| Saturday 16th July 2022 | Eid Family Fun Day |
| Thursday 7th July 2022 | Promise Inclusion AGM |
| Wednesday 6th July 2022 | Berkshire Vision Art Exhibition |
| Sunday 3rd July 2022 | Association of Sri Lankan Muslims Summer Social |
| Thursday 30th June 2022 | 12th Pakistan Achievement Awards International |
| Wednesday 29th June 2022 | Torch Commissioning Service |
| Sunday 26th June 2022 | All Pakistan Women's Association Launch Event |
| Thursday 23rd June 2022 | Hawkedon School Sports Day |
| Monday 20th June 2022 | Aldryngton School Assembly |
| Friday 10th June 2022 | Halqa Habab Dinner |
| Tuesday 7th June 2022 | SERFCA Briefing |
| Wednesday 1st June 2022 | Kenton Road Day Centre Platinum Jubilee Party |
| Sunday 22nd May 2022 | Earley St Peter's Platinum Jubilee Thanksgiving Service |
| Wednesday 11th May 2022 | Professional's Breakfast at Austen House |
| Tuesday 10th May 2022 | 2nd Earley Rainbows  |
| Sunday 3rd April 2022 | Huge Earley Litter Pick |
| Saturday 2nd April 2022 | Trinity Concert Band – "Song & Dance" |
| Saturday 19th March 2022 | Service to Earley Awards |
| Friday 18th March 2022 | Covid Memorial Plaque Unveiling |
| Friday 4th March 2022 | World Day of Prayer |
| Thursday 3rd March 2022 | Meeting with Hong Kong Residents |
| Sunday 19th December 2021 | Earley St Peter's Carol Service |
| Thursday 9th December 2021 | PAW Consulting Launch Event |
| Saturday 4th December 2021 | Kenton Road Day Centre Christmas Fair |
| Thursday 2nd December 2021 | 1996 (Earley) Squadron Air Training Corps Meeting |
| Thursday 26th November 2021 | Wokingham Borough Council Sports Awards 2021 |
| Friday 19th November 2021 | Citizens Advice Wokingham Mobile Advice Unit |
| Sunday 14th November 2021 | Remembrance Sunday |
| Monday 25th October 2021 | Readibus AGM |
| Saturday 16th October 2021 | Thanksgiving Service for HRH Duke of Edinburgh |
| Monday 11th September 2021 | Wokingham Volunteer Centre AGM |
| Sunday 10th October 2021 | Induction and Installation of Rev'd April Beckerleg |
| Friday 8th October 2021 | Annual Judicial Service and 900th Anniversary of the Founding of Reading Abbey.  |
| Friday 1st October | Macmillan Coffee Morning at the Interpretation Centre |
| Saturday 25th September 2021 | St Nicolas Church Fete |
| Friday 24th September 2021 | Macmillan Coffee Morning at Austin House |
| Wednesday 22nd September 2021 | ETC Volunteers Thames Waterside Litter Pick |
| Thursday 16th September 2021 | Berkshire Vision AGM |
| Thursday 9th September 2021 | Berkshire High Sheriff's Summer Reception |
| Saturday 4th September 2021 | Huntley and Palmers 80th Anniversary Lunch |
________________________________________________________________________________________
Previous Earley Town Council Chairmen & Mayors
| | | | | |
| --- | --- | --- | --- | --- |
| Period of Office | Title | Forename | Surname | Position |
| 1974-1976 | Mr | R.E | Boulton | Chairman |
| 1976-1981 | Mr | A.C | Paddick | Chairman |
| 1981-1983 | Mr | A.W | Spratling | Chairman |
| 1983-1987 | Mr | J | Busby | Chairman |
| 1987-1988 | Mr | A.W | Spratling | Chairman |
| 1988-1989 | Mrs | V.J. | Santon | Chairman |
| 1989-1990 | Mr | D.J | Fruin | Chairman |
| 1990-1991 | Mr | P | Devonald | Chairman |
| 1991-1992 | Mr | A.W | Spratling | Chairman |
| 1992-1994 | Mrs | F.M | Rolls | Chairman |
| 1994-1996 | Mrs | E | Spratling | Chairman |
| 1996-1998 | Mr | M | Richman | Chairman |
| 1998-1999 | Mrs | E | Spratling | Chairman |
| 1999-2001 | Mr | A.D | Long | Chairman |
| 2001-2003 | Mrs | I | Dowdall | Chairman |
| 2003-2004 | Mrs | J | Shockley | Chairman |
| 2004-2006 | Mr | D.D | Chopping | Chairman |
| 2006-2007 | Mr | David | Chopping | Mayor |
| 2007-2008 | Mr | Norman | Jorgensen | Mayor |
| 2008-2009 | Mr | Andrew | Bradley | Mayor |
| 2009-2010 | Mr | John | Armstrong | Mayor |
| 2010-2011 | Mr | Peter | Willis | Mayor |
| 2011-2012 | Mr | Tim | Chambers | Mayor |
| 2012-2013 | Mrs | Pauline | Jorgensen | Mayor |
| 2013-2015 | Mrs | Linda | Chambers | Mayor |
| 2015-2016 | Mrs | Melanie | De Jong | Mayor |
| 2016-2017 | Miss | Jackie  | Rance | Mayor |
| 2017-2018 | Mr | Michael | Firmager | Mayor |
| 2018-2019 | Mr | Brian | Wedge | Mayor |
| 2019-2021 | Mr | David | Hare | Mayor |
| 2021-2022 | Mrs | Anne | Bassett | Mayor |