On 15th March 2023, The Elizabeth Room at Earley Town Council's Radstock Lane Community Centre was officially opened by Councillor Tahir Maher, the Earley Town Mayor.
The refurbished space, named in honour of Her Late Majesty Queen Elizabeth II, is a cosy, informal area, with a relaxed atmosphere and kitchen facilities, available for hire to local support groups and charities.
The Town Council is aware that the impacts of the Covid 19 pandemic and the current cost of living crisis have led to many organisations seeing an increase in the number of people needing support and an increase in the level of that support. The purpose of The Elizabeth Room is to provide somewhere warm and welcoming for local charities and organisations to provide their services, especially if their clients are experiencing loneliness or social isolation.
The Elizabeth Room is equipped with comfortable chairs and tables, a kitchen area for making refreshments, games, toys and other provisions. The room is a good size and is suitable for group meetings, one to ones or somewhere for a group to come and get together.
For further information or to arrange a viewing, please contact the Council Offices on Tel: 0118 986 8995 or email [email protected]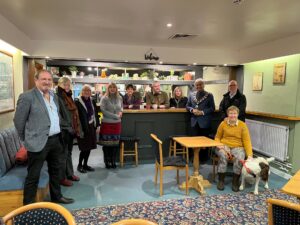 The Earley Town Mayor, Earley Town Councillors and the Town Clerk
celebrate the launch of The Elizabeth Room