On 24th October 1972, a section of the temporary structure supporting the construction of the A329(M) viaduct over the river Loddon collapsed, killing 3 men and injuring 10 others. The location of the tragedy being where the A329(M) crosses the river Loddon, where the parishes of Earley, Woodley and Winnersh meet, until now, has had no memorial.
Earley Town Councillor Al Neal headed the call for a memorial to this tragic event to be erected and on 16th November 2022, Earley Town Council and Woodley Town Council planted a commemorative tree at Dinton Pastures in Winnersh, with the help of Wokingham Borough's Countryside Services team in memory of the 50th Anniversary of this tragedy. In attendance was the Mayor of Earley and the Deputy Mayor of Woodley, along with officers and councillors from both town councils.
The tree chosen, a Hornbeam (Carpinus Betulus), is known for its strength and was traditionally used as a tonic to relieve tiredness and heal wounds. These qualities make it a fitting memorial to the lives lost in this tragedy. As the Hornbeam keeps its leaves all year round, this tree will serve as a winter haven for wildlife, providing shelter and support to a wide variety of animals. It is hoped that this memorial will provide a peaceful focus for reflection and remembrance of the lives lost and all those affected by the Loddon Viaduct Collapse, may they always be remembered.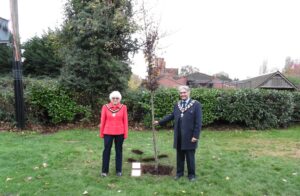 Deputy Mayor of Woodley Kay Gilder and Mayor of Earley Tahir Maher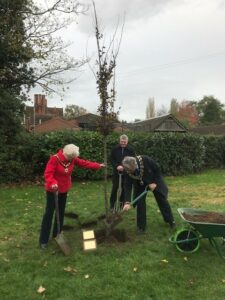 Deputy Mayor of Woodley Kay Gilder, Mayor of Earley Tahir Maher and Councillor Al Neal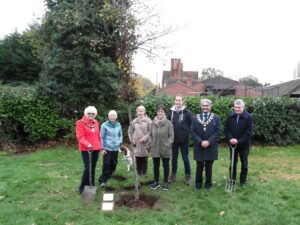 From left to right Deputy Mayor of Woodley Kay Gilder, Cllr Carol Jewell, Cllr Nicola Brock, Cllr Alison Newton, Cllr Keith Yabsley, Mayor of Earley Tahir Maher and Councillor Al Neal