The Service to Earley Awards are made annually by Earley Town Council, to honour a person, or persons, who have made a significant contribution to the Earley community through their time, actions, talents and dedication. Those honoured are recognised as having demonstrated their commitment to helping others and serve as role models as they strive to make Earley a better place.
During the coronavirus pandemic, the Town Council had been unable to present the awards in person and so, on Saturday 19th March, a reception was held and recent recipients were presented with their awards by the Town Mayor, Cllr Anne Bassett. The event was also attended by Earley Town Councillors and senior officers of the Council.
The first to receive their award on Saturday was Mary Bather, an Earley resident who has been a community leader for many years. Mary revitalised ACER, the residents' association for the Whitegates area, chairing the meetings and later working with the committee members and worked with local councillors, faith leaders and the police to set up the Woodley and North Earley Community Forum. She has been a strong advocate for protecting green spaces, keeping streets and verges cleaner and well maintained, and encouraging residents to get outside whether it be litter picking with EASI or following one of walking routes
Mary and local ramblers have produced.
Another of those receiving an award was Julie Dennis, a volunteer with GirlGuiding UK for over 20 years. During that time Julie has been the main Guider for 2nd Earley Rainbows and a leader at 2nd Earley Brownies, as well as serving for a decade as the District Commissioner for Earley, overseeing all GirlGuiding units in Earley and neighbouring districts.
Jim Willis was the third resident to be presented with an award on Saturday. Jim has chaired the Neighbourhood Action Group for many years and liaises with other NAG chairs and the local police, working to identify local issues of concerns and trying to find ways in which these problems can be addressed. Jim has also been very active in keeping local roads clear of litter.
Two other residents received a Service to Earley Award in absentia. They were Charlotte Allchin who was recognised for her dedication to raising the profile of environmental and climate change issues, and her work running support groups for both older people and young children; and Annette Russell, a GirlGuiding volunteer for over 23 years and someone who has helped and inspired over 150 girls and women through her work with 1st Earley St Peter's Brownies.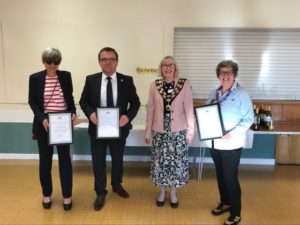 Photo: Mary Bather, Jim Willis, Earley Town Mayor, Cllr Anne Bassett and Julie Dennis at the Service to Earley Awards ceremony on Saturday 19th March 2022.