On Friday 18th March, local GP Dr Nicola Brock unveiled a plaque commemorating all those who have done so much for their communities during the Coronavirus pandemic.
Earley Town Council erected the plaque at their offices in Radstock Lane, Earley, as a way of paying tribute to the many residents who helped others, whether it was volunteering with local charities and community groups, supporting neighbours and family members, the health and social care staff who worked tirelessly to help and protect others, and all the key workers who kept vital services running throughout the past two years.
Dr Nicola Brock, who also serves as an Earley Town Councillor, was invited to unveil the commemorative plaque in recognition of her dedication as a local GP and her hard work in delivering the vaccination programme from the local surgery. As she cut the ribbon, Dr Brock expressed her gratitude to the volunteers who had helped, and who continue to help, ensure the vaccination programme's success and all those other volunteers who go above and beyond to support their community during these difficult times.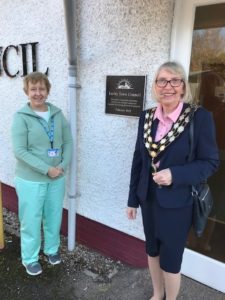 Photo: Dr Nicola Brock GP and the Earley Town Mayor, Councillor Anne Bassett, outside the Earley Town Council Offices in Radstock Lane, Earley.