Covid -19 Guidance
_________________________________________________________________________
Useful Links
For the latest information on Covid-19 from Wokingham Borough Council, please visit their dedicated pages on the WBC website
For the latest NHS advice, please visit the NHS website
For the latest government advice, please visit the .Gov website
The Covid-19 dashboard has the latest figures for England on cases, hospitalisations and deaths. They also have analysis on cases in Lower Earley North, cases in Lower Earley South and cases in Earley.
The Office for National Statistics latest in depth data analysis.
_________________________________________________________________________
Latest guidance
Covid-19 Vaccinations

 
The vaccination programme offers the following vaccines until 30 June 2023:
1st and 2nd doses for people aged 5 (by 31 August 2022) or over

The spring booster 2023
If you have not had a 1st or 2nd dose yet, you should get them as soon as possible.
The following groups are eligible for the spring booster 2023:
people aged 75 and over (by 30 June 2023)

residents in a care home for older adults

those aged 5 and over with a weakened immune system
Where to get the vaccine
Eligible people can book in for a Covid-19 vaccine through the NHS app, the NHS website or by calling 119 – you can choose among the locations that offer a vaccine that is suitable for you.
You can also use a walk-in vaccination centre where bookings are not required.
Care home vaccinations of the spring booster 2023 started on 3 February.
_________________________________________________________________________
Symptoms
Full details can be found on the NHS website.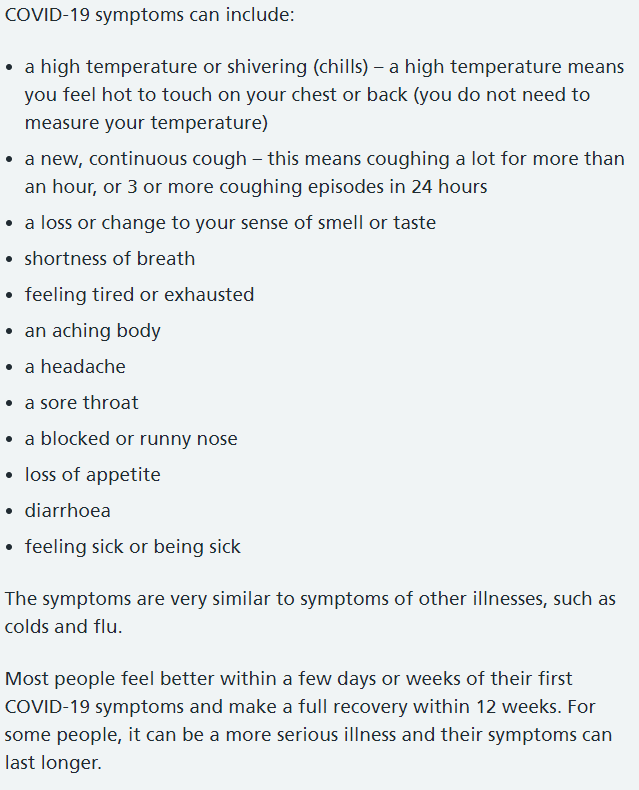 _________________________________________________________________________
Who can get a free NHS Covid-19 rapid lateral flow test
NHS COVID-19 rapid lateral flow tests are no longer free for most people.
You may still be able to get free COVID-19 rapid lateral flow tests from the NHS if:
you have a health condition which means you're eligible for COVID-19 treatment

you're going into hospital

you work in healthcare or adult social care
If you want to get tested but are not eligible for free NHS rapid lateral flow tests, you need to pay for the test yourself. You can buy rapid lateral flow tests from some pharmacies and retailers, in person or online.
For further information, please visit the NHS website
Beware of scams
We are aware that some people are receiving suspicious calls, phishing emails and text messages about Covid-19. The vaccine is only available through the NHS and it is free of charge – at no point will you be asked to pay.
The NHS will never:
ask you for your bank account or card details  

ask you for your PIN or banking password

arrive unannounced at your home to administer the vaccine or testing

ask you to prove your identity by sending copies of personal documents such as your passport, driving licence, bills or pay slips
If you receive a call you believe to be fraudulent, hang up. If you are suspicious about an email you have received, forward it to [email protected]. Suspicious text messages should be forwarded to the number 7726 which is free of charge.
If you believe you are the victim of a fraud, please report this to Action Fraud as soon as possible by calling 0300 123 2040 or visiting the Action Fraud website.